If you are into all things beauty then you have seen the liquid lipstick take over the industry by storm! Ranging from high end to affordable, the liquid lipstick is perfect for those who loves to utilize a good lipstick but with the precision of a lip gloss applicator. Personally, I absolutely love liquid lipsticks because of the long wear that the product provides. I've worn these lippies from the start of the day until the time I head back home in the evening and it doesn't budge! (Even after I've eaten a meal as well).
Being a dark skinned woman I am always on the hunt to find lip colors that will flatter my skin tone. If you find yourself doing the same, here a few tips on how you can determine which liquid lipsticks will work for you and that you can purchase!
1. Search for Videos with Swatches
Before buying any product remember this, YouTube is your friend! There are tons of ladies (and gents as well) that strive to provide their viewers with content that goes into detail about products they've received or purchased. If you are interested in getting a few liquid lipsticks but not sure which colors to choose then search on YouTube "[Enter Product Name Here] liquid lipstick review and swatches for [Enter Skin-tone here]" After doing this and watching a few videos of gurus who were close to my skin tone, I was able to make a purchase that I am really content about.
2. Interested in Saving Money? Look for Dupes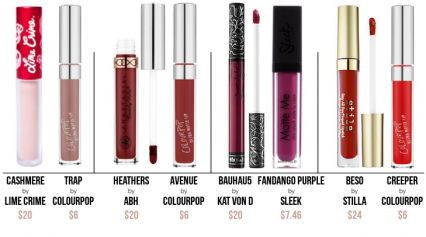 When ever I'm shopping I absolutely love when I come across a good deal where I can save a few bucks. Dupes in the beauty and fashion industry are products that are close, if not the same, in appearance and sold by different companies. When searching for liquid lipsticks there are times where I find a few that I am interested in that are within the price range of $20 to $30. Instead of just jumping on board to buy them, I search for dupes and I usually come across a few that are 50% less then the price of the company I originally wanted to purchase from. Although this won't be the case for all colors, you can still save some money along the way!
3. Work with and have fun with your Liquid Lipsticks!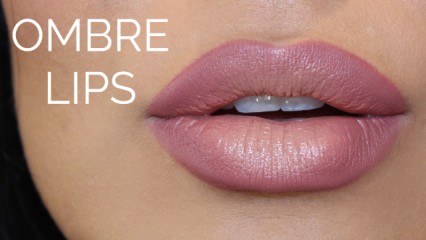 Depending on your skin tone, there may be a few colors that you'll have to play with a bit in order for them to work. For example, I have a few nude colors that if I were to wear them on their own I probably would look a little crazy. Instead of giving them the boot, I apply a dark brown lip liner then apply the lip color and blend the two. This allows a seamless mesh between the two colors and provides a nice transition from my face to my lips. Another thing to definitely try is making an ombre lip! All you'll have to do is take two colors that work with one another and are in a lighter to darker shade. You can apply the darker color on the lips then add a bit of the lighter color in the center and blend them together.
Hope you all enjoyed these tips and will be looking forward to purchasing a few liquid lipsticks of your own!
Stay Stylish,
Michelle Almonor Intern